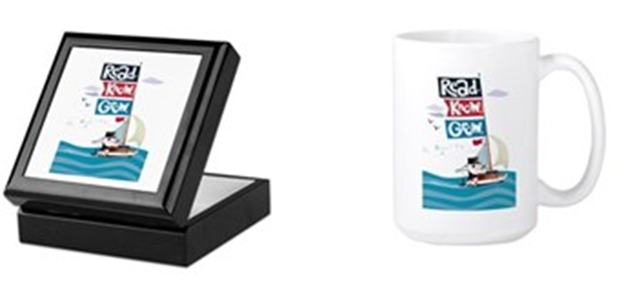 CSLF Recognizes Bob Logan
By Katie Williams,
CSLF President
The California School Library Foundation is happy to highlight children's author and illustrator, Bob Logan, this month.
Bob grew up in Baltimore, MD. He used his artistic talents at a young age by selling his Star Wars drawings to kids who happily spent their milk money.  He then used this money to buy books at the Scholastic Book Fairs. Then at Edinboro University in Pennsylvania, he studied animation. He has worked as a story artist on feature animations such as Madagascar, Open Season, and Cloudy with a Chance of Meatballs.  He is also widely known for his books The Sea of Bath and Rocket Town, both of which have been favorites for children.
Now living in Thousand Oaks, Ca with his family, Bob enjoys good coffee, sea shanties, a little gardening, sketching, and talking.
You can see Bob's sea captain illustration on items featured at the Library Advocacy Store.
Thank you very much, Bob, for your colorful work!