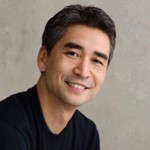 CSLF Highlights Kazu Kibuishi
The California School Library Foundation is happy to highlight the work of author/illustrator, Kazu Kibuishi. American graphic novel author and illustrator Kazu Kibuishi is best known as the creator and editor of the comic anthology Flight and for creating the webcomic Copper and the Amulet series. You probably recognized his cover illustrations for the paperback 15th anniversary editions of the Harry Potter series.Kazu is a fourth generation Japanese American. Born in Tokyo in 1978, he grew up in LA with his family. His love of drawing began at the age of five. Surprisingly, he didn't go to art school. Instead, his college years found him at the University of California Santa Barbara where he graduated with a degree in film studies. Working in animation, his love of drawing drifted back to comics.
At the age of 27, his career took a new direction. Scholastic won the war of the bids for the rights to publish Amulet.
"We are very proud to be the publisher of Kazu Kibuishi's Amulet," said
Jean Feiwel, publisher and senior vice president, Scholastic Children's Book
Publishing. "Kazu's amazing ability to combine action-packed storytelling,
engaging characters and stunning artwork will appeal to children and adults
alike. We look forward to building this new Graphix(TM) talent and bringing
these innovative books to Scholastic's distribution channels."
Kazu is working as a full-time book creator, partnering with his wife, Amy. Visit their blog, Bolt City Productions, to read the origin story of the series that was a personal goal, not a "career ambition."
The readers of the Amulet series are now waiting for Book 9. It is the final book of the beloved series.
Follow him on Twitter and Instagram. Look for merchandise with his Reading Rabbit illustration at the Library Advocacy store. A portion of the proceeds benefits the foundation. CSLF thanks Kazu Kibuishi for his support of school libraries in California.