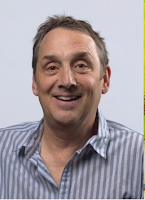 CSLF highlights David Shannon's support for California School Libraries
The California School Library Foundation is happy to highlight the work of author/illustrator, David Shannon. He was born in Washington, D.C, in 1959, and grew up in Spokane, WA
David liked to draw as soon as he could hold a crayon. He went to Hutton Elementary school where his teachers soon realized that if they let David draw murals it would keep him from disrupting class and their classroom would have some pretty good art on the walls, too! David eventually graduated from Art Center College of Design in Pasadena, majoring in Illustration. He sold his pickup truck and moved to New York City in 1983 to start a career in editorial illustration.
David's work appeared in many magazines and newspapers, including Time, Newsweek, Rolling Stone, and The New York Times, as well as numerous book jackets and posters. In 1988 he illustrated his first children's book, How Many Spots Does a Leopard Have?, by Julius Lester. (Btw, Leopards have two spots – dark ones and light ones.) After illustrating several books by other authors, David was encouraged to try writing his own stories. His first book was How Georgie Radbourn Saved Baseball, which was named a New York Times Best-illustrated book in 1994. In 1999 the semi-autobiographical story, No, David!, received a Caldecott Honor. David has written and/ or illustrated over 35 books for children ages 3-8. He now lives in Los Angeles with his wife, Heidi, and his daughter, Emma

Some of the books he has written are Roy Digs Dirt (newest book), Hiawatha and the Peacemaker, The rough faced girl (Algonquin Cinderella story), Encounter (Columbus & Taino Indians), Shark God (Hawaiian), Mr. Nogginbody, (2 titles) Bizzy Mizz Lizzie, and eight David books.

Look for merchandise with his "David" illustration at the Library Advocacy store. A portion of the proceeds benefits the foundation.