Model School Library Standards – September 2010
Model School Library Standards (DOC; 164KB; 43pp.) | PDF (1MB; 44pp.)
Adopted by the State Board of Education September 16, 2010. The library standards are now available from the California Department of Education online catalog:
Item #: 001710    Model School Library Standards for Public Schools, Kindergarten Through Grade Twelve     Price: $15.95
School libraries help prepare students to live and learn in a world of information. The mission of school libraries is to ensure that students and staff are able to use ideas and information.
The libraries provide access to materials in all formats. It helps increase students' interest in reading, viewing, and using information and ideas.
Research shows that a school library with the right staffing, funding, and a rich collection of books has a positive impact on students.
School districts need to provide library services for teachers and students.
Brokers of Expertise (Outside Source), "the place where California educators go to get connected." The first step in participating is to register. The second step is to become familiar with where the Model School Library Standards (Outside Source) are located. Collaborate with other teacher librarians in the California Teacher Librarians Group (Outside Source) to share implementation ideas.
The State Board of Education extends its appreciation to those who contributed to the development and review of the Model School Library Standards for California Public Schools, Kindergarten Through Grade Twelve under the provisions of California Education Code Section 18101.
Special Acknowledgments
Special appreciation is extended to Jack O'Connell, State Superintendent of Public Instruction, under whose leadership the project was developed; the California School Library Association; representatives from California teacher librarian credential programs; technology and library representatives from districts and county offices of education; and the volunteer writing team, which included the following people:
Doug Achterman, San Benito High School District
Rosemarie Bernier, Los Angeles Unified School District
Lesley Farmer, California State University, Long Beach
Anna Koval, Petaluma City Elementary School District
Pamela Oehlman, Long Beach Unified School District
Tanya Richards, Modesto City Schools
Martha Rowland, Sacramento City Unified School District
Dana Stemig, Modesto City Schools
Glen Warren, Orange County Office of Education
Carolyn Williams, Alvord Unified School District
Connie Williams, Petaluma City Elementary School District
CSLA Standards – September 2004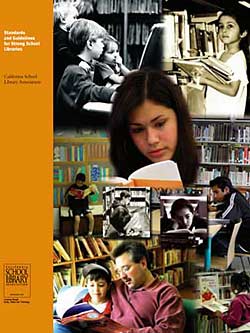 Scholastic Library Publishing generously supported the production of this publication. The CSLA Standards Task Force (pdf), chaired by Jo Ellen Misakian, authored the book. The task force, comprised of several subcommittees, dedicated over a year to researching and writing chapters on information literacy, staffing, resources, facilities and more.
Their work was turned over to Debbie Abilock, editor of AASL's Knowledge Quest, who edited the chapters, tables, bibliographies and references into an integrated professional publication.
Since Standards and Guidelines for Strong School Libraries is now out-of-print and out-of-stock, CSLA is making it available in PDF format for free, with bookmarks and active hyperlinks. Sample pages | Download Publication
…brings together in text, tables and bibliographies a wealth of information about strong school library media programs.
"When professional library staff collaborates with teachers, when students have access to quality and diversity of reading and information resources, and when voluntary reading of self-selected materials is encouraged, achievement is higher despite students' socioeconomic status. Where school libraries are strong, their students, staff, and community become proficient readers who can skillfully access, evaluate, and use information."
– Jo Ellen Priest Misakian, Chair, Standards Task Force (from the Foreword)
What they're saying…
"I just received my copy of the Standards…I want to share it with everyone! We're in the middle of WASC [accredidation] right now and it's obvious to me our school would be improved and on the right track were we to adopt these standards… Thank you!"
– Jan Polochko, Library Media Teacher, Truckee High School
"The new Standards document will help all of us develop the libraries we know are essential for equitable student achievement."
– Susie Goodin, Consulting Librarian, Berkeley High School
"This volume spells out in lucid detail the answers to all the questions we have, both quantitative and qualitative. How should we staff? What do we expect to see? What are other states doing? Is there proof that it will work? From job descriptions to supporting research, from architectural considerations to the mind of the child, these pages outline for us the school libraries students deserve."
– Richard Moore, Librarian, Orange County Department of Education